After your special experiences in Wernigerode it's about time to taste the Harz and start a culinary journey. Enjoy German homestyle cooking in our restaurant
"Altwernigeröder Kartoffelhaus"
. Connoisseurs try and experience an old Harz tradition "Harzer Rotes Höhenvieh". This special kind of beef is raised under thes best circumstances on luscious, green meadows. You have to try the soft and tender meat.
If you feel more like a short trip to the Mediterranean, we invite you to our "Bodega". Enter the heart of Spain and try delicious tapas, entrées and wine which will create a relaxed holiday mood.
On the website of "Bodega" you can inform yourself about our menu before your visit. Following below you can find an overview of the dishes that are served in "Alterwernigeröder Kartoffelhaus". We are open every day from 11:00. If you want to make a booking for parties or meetings, or if you need suggestions for a buffet or course-meal do not hesitate to call us. You can reach us by phone +49 (0)3943 949290. We are more than happy to help you.
Bon appetit!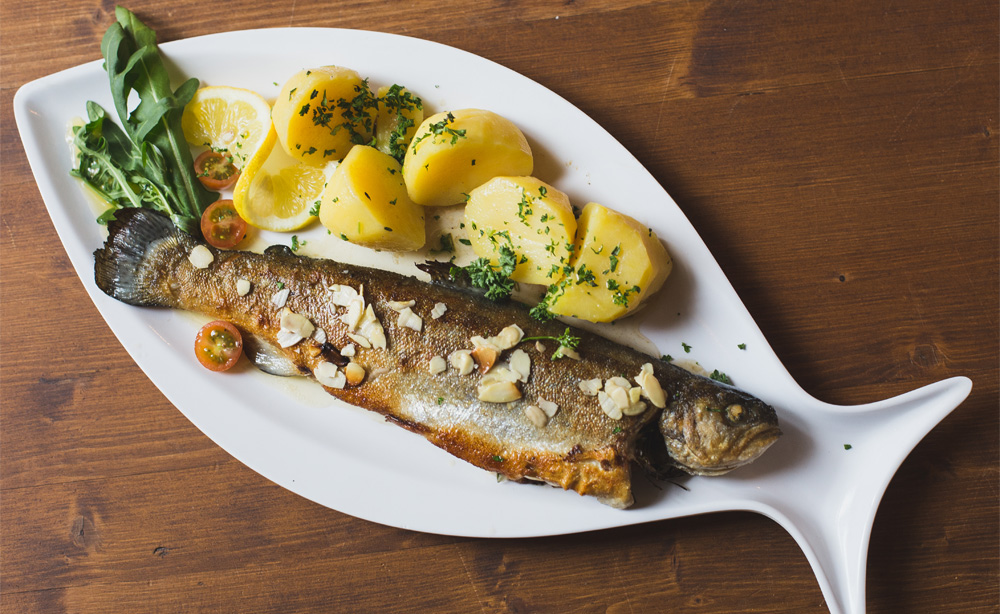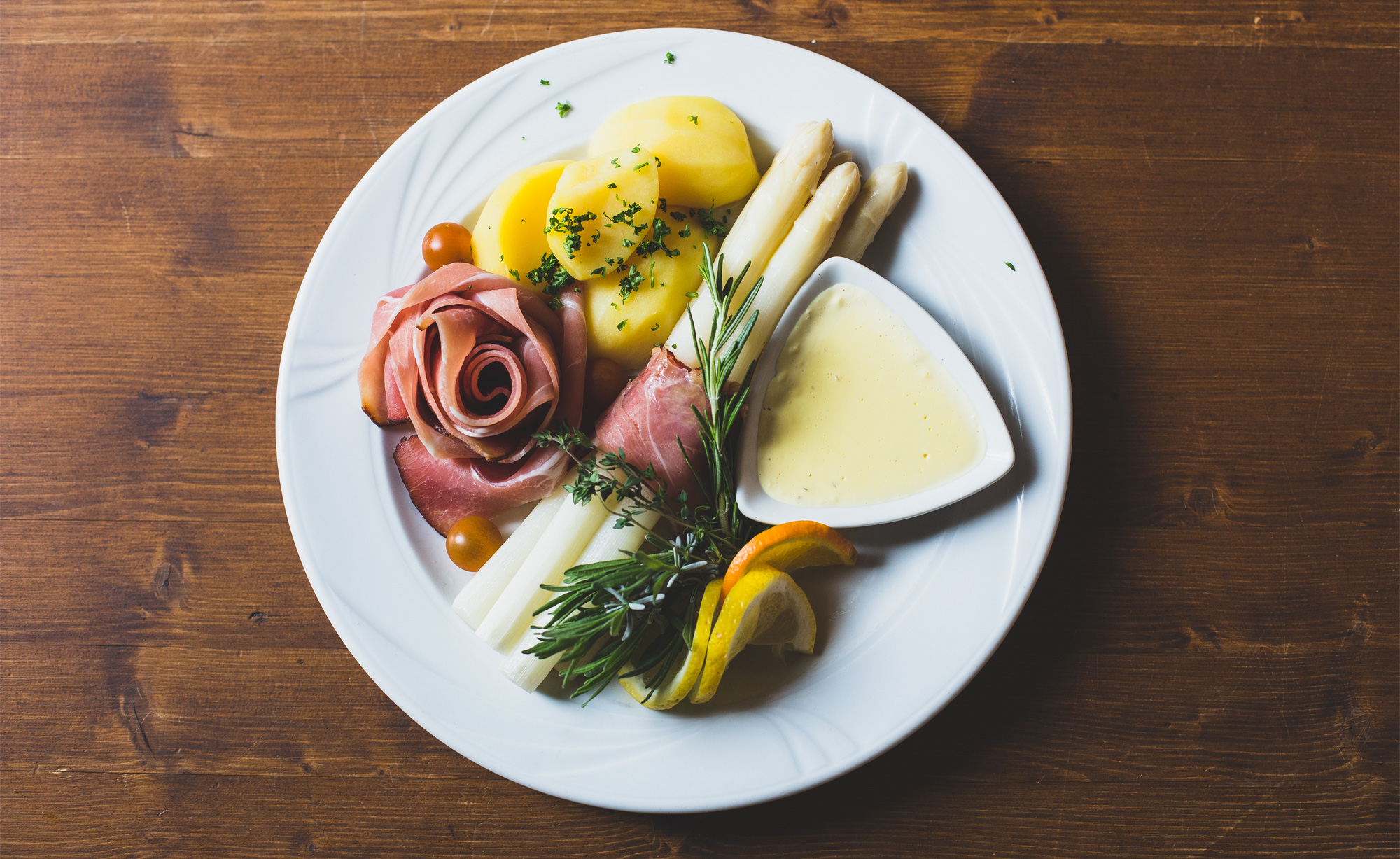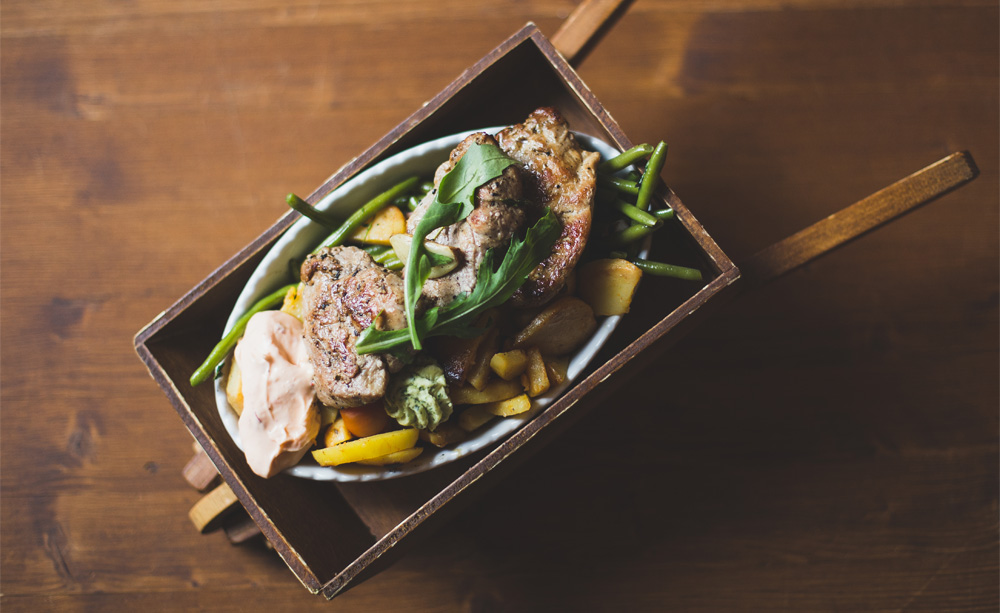 Starters
1. "Puffer-Lachs-Törtchen"

Salmon-rösti-Tartlet

€7,60

2. Seasonal Fishplate

Smoked salmon, lokal trout, creamed horseradish, bread, butter

€8,90

3. Potato wedges

with a homemade potatocream

€5,50

4. Baked potato

with potato cream, tzaziki or curd cheese

€6,30

6. Breaded mushrooms

with tzaziki and salad

€5,90
Salads
14. Mixed salad

€4,20

15. Tomato-Mozarella

€6,50

16. Salad "Kartoffelhaus"

mixed salads, tomatoes, cucumbers, onions, kraut, thuna and feta

€9,50
Soups
20. Potato soup

€4,40

21. Soljanka

€4,40

22. Tomatocream soup

with whipped cream

€45.25
Hearty dishes from the grill and the pan
30. Grillplate "Wernigerode"

Steaks from cattle and pork, filet of pork, chicken breast, lokal sausage, onions, spicy dip, herb butter, pan fried potatoes and krautsalad

€17,50

31. "Kartoffelhaus" plate

filet of chicken, pork and turkey, seasonally vegetables and cropuette

€15,40

32. Schweinesteak "Hawaii"

steak from pork, baked with pineapple and cheese, french fries and salad

€12,80

33. Well aged Rumpsteak (250g)

with herb butter, potato wedges and salad

€19,30

34. Roulade

with apple-red cabbage and boiled potatoes

€12,60

35. Schnitzel with mushrooms in cream

croquette, salad

€11,30

36. Schnitzel "Milan"

baked with tomatoes and mozarella, tomato-sauce, potato wedges

€12,90

37. Two fried chicken breasts

potato wedges, potatocream, tomatosauce and salad

€12,40

41. Three spits of lamb filet

marinated in garlic-oil, feta cheese, green beans, baked potato, and potatocream

€18,90

42. "Dreckskarren"

three lockets of pork with green beans and pan fried potatoes

€14,70

43. Haxe and kraut

with boiled potatoes

€11,50

44. "Holsteiner Schnitzel"

with two fried eggs, bacon, fried potatoes, curd, gherkin, and salad

€12,80

46. Calf`s liver and mashed potatoes

with grilled rings from apple and onions

€13,40

48. Three medallions from pork

baked with mushrooms in cream, hashed brown potatoes, salad

€14,90

49. "Schupfnudelpfanne"

potato dumblings with slices of turkey and mushrooms in cream

€11,50
All around the potatoe
50. Baked potatoe

with fresh mushrooms in cream and salad

€7,90

51. Potatoes in the skin

with three different dips

€7,90

52. Four Röstis with apple sauce

€6,30

53. Baked potato "Lukullus"

grilled onions, mushrooms, bell pepper, tomatoes, potatocream, with slices of cold roastbeef or smoked salmon

€10,20

54. Rösti and smoked salmon

with creamed horseradish and salad

€10,20
Fish dishes
60. Steamed fish served two ways

with vegetable and boiled potatoes

€14,60

63. Fried salmon

with boiled potatoes, vegetable and herb butter

€13,90

65. "Harz" trout "Müllerin Art – lokal dish

fried trout with almond butter, boiled potatoes, salad

€14,70

66. Smoked filets of "Harz" trout – lokal dish

with creamed horseradish, and fried potatoes, mixed salad

€14,70
All around the pan fried potatoes
72. Homemade fried potatoes

with fried eggs, curd, gherkin, salad

€8,10

75. "Bauerfrühstück" in the manner of the "Kartoffelhaus"

potatoes, eggs and onions fried together with goulash

small €7,50

€9,70

76. "Bauernfrühstück"

potatoes, eggs and onions fried together with potatocream

small €7,20

€9,10

77. Homemade sour meat

with remoulade, fried potatoes, salad

€10,90

78. Brawn in the manner of the "Kartoffelhaus"

with fried potatoes, remoulade

€10,90
Potatoes going round the world
83. Casserole from potatoes and vegetable

baked with cheese – vegetarian dish

€9,90

85. Greek potato pan

with slices of filet of pork, mushrooms, bell pepper, onions, feta, tzaziki and salad

€10,80

89. Indian casserole

fried slices of turkey and potatoes baked in a pineapple-curry-sauce with cheese and cowberries

€10,80

91. Potato-casserole "a la Carbonara"

baked with cheese

€10,80
96. "Harz" farmers plate

coldmeat and cheese with bread, butter and lard - and after it a potatoschnapps

€12,50

98. Venison goulash – lokal manner

with red cabbage, cowberries, and boiled potatoes

€13,80

100. Haunch of young venison

with cowberries, red cabbage and finger shaped potatoe dumplings

€16,50
Dessert
111. Vanilla ice and whipped cream

with hot cherries or raspberries

€5,20

112. "Apfelstrudel"

with vanilla ice and whipped cream

€5,20

113. Mixed Ice cream

three balls (chocolate, vanilla and strawberry) with whipped cream

€4,80

114. Red fruit jelly

with vanilla ice and whipped cream

€4,50 €

115. "Bananasplit"

straciatella, vanilla, chocolate with whipped cream and almonds

€6,10

115. "Ladies dream"

vanilla, chocolate and straciatella with whipped cream and eggnog

€6,10